THE ROUND KURLAND RALLY
A RALLY NEWS – MARCH 2017.
Hello All,
I am rounding up the International Kurland Rally Entries at the moment. We still have hotel rooms available so anyone who fancies attending our rally has another 2 weeks to decide from todate (29th March). I am already sending out he Rally Entry Confirmations to the early birds.
Myself, I have been busy as my son Robert and I attended the London-Brighton Pioneer Run on 19th March. I have assembled a short video and it can be watched here: https://youtu.be/0YFcOkj-1Mc
This is the 10th year that our REX/JAP of 1913 has been restored and has covered 5000 kilometres on the roads of different countries in Europe from Italy, UK, Estonia and Latvia to Sweden. It has been a regular teaser at most of the International Kurland Rallies since 2007 and health permitting it will be ridden at the 2017 event as well.
Our next motorcycle related experience will be attending the FIVA World Motorcycle Rally in Provence, South of France, in the end of May.
Some of our older regular participants have had to cancel their participation this year for health reasons, operations, bad falls, family reasons etc. Yet we have received an adequate amount of Entries from new people that have been met at he Irish rally and elsewhere. Let me extend a warm welcome to every new participant, especially those who will travel to Latvia for the first time. Of course everyone is welcome, our old regulars included. Should you need any assistance in route planning or booking hotels before or after the event, please do not hesitate to get in touch.
Yours on a motorcycle,
Juris
A Rally with a Difference —
the International Round Kurland Rally in Latvia for 2017!
The International Round Kurland Rally in Latvia has been organized since 2003 and it has seen different parts of Kurland - Latvia's Western-most region. The format has changed over the years from timed runs to untimed touring event with good standard of accommodation, good food, excellent and cheap beer, interesting routes along the Baltic coast, old German and Livonian castles, manor houses and very beautiful countryside. http://www.latvia.travel/en Latvia is mostly flatland with very few hills and no mountains, so even the oldest motorcycles can cope with our roads with comparative ease. The distance of the Kurland Rally is usually around 500 kilometres that is covered in 4 days of which 3 are the riding days and the first day is for getting acquainted with other participants and the surroundings.
http://www.latvia.travel/en/sight/museum-ainazi-naval-school
http://www.visitligatne.lv/ligatnes-papirfabrikas-ciemata-vesturiskais-centrs?lang=eng
http://www.latvia.travel/en/sight/dikli-palace
http://www.turaida-muzejs.lv/?lang=en
http://www.valmiermuiza.lv/en/visiting/guided-tours
The above listed websites will give you some insight in what to expect during the 3-day riding event. One of the sites will be chosen for the traditional Group Photograph with all the participants and their motorcycles arranged and photographed for posterity…
The 2017 Kurland Rally will visit Vidzeme or Midlands in English. http://www.latvia.travel/en/article/vidzeme It will be a totally different experience with a lot of new places and new things to see as well as exploring a different region of Latvia, but with the same format and tradition that has become the Trademark of the Kurland Rally.
Historically Latvia had 3 provinces Kurzeme, Vidzeme and Latgale. Zemgale was part of Kurzeme. The 3 provinces or regions are symbolically represented by the 3 stars in the hands of Mother Latvia statue on top of the Freedom Monument in Riga. http://www.latvia.travel/en/sight/freedom-monument
Now there are officially 4 regions in Latvia and Riga is acquiring the status of a 5th region in its own right because almost ½ of Latvia's inhabitants live or work in Riga.
The Rally will be held from 13th – 16th July, 2017 and the accommodation for the 3 nights will be based at hotel "SIGULDA" in picturesque Sigulda town. The whole hotel has already been booked in April this year to secure availability for July next year. http://hotelsigulda.lv/en/history/
Due to the limitations of accommodation the number of participating motorcycles at the 2017 Kurland Rally will be limited to 60.
Only motorcycles produced before 1979 will be eligible to enter the Rally. Older pre-war motorcycles will have a priority.
There will be an adequate back-up and technical assistance truck "sweeping" the route from behind and also other cars and vans assisting with Rally logistics en route. All vehicles will be provided by Ramoto Ltd. company as always. www.ramoto.lv
The Rally Entry Deadline will be 15th April, 2017. The Deadline for all Rally Fees will be 30th April.
We have had motorcycles delivered to Latvia from the UK and other countries with the participants flying in from Stanstead and other airports and there was a special pre- and post-Rally hotel in Riga (Hotel SKANSTE), where the participants could have a rest before and after the rally. http://hotelskanste.lv/en This will also be available in 2017.
Latvia has several seaports (Riga, Liepaja, Ventspils), which are connected to other ports in Germany, Poland and Scandinavia by regular ferry lines. All these ferries welcome motorcycles on board. Should you need assistance with planning your route to Latvia, please get in touch.
There is a Rally Mailing List currently being compiled by the Rally Entry Secretary Juris Ramba and prospective participants are kindly requested to register by e-mail or post for inclusion on the Rally Mailing List. The Rally Entry and Accommodation Forms and Rally Regulations will be posted to everyone on the Mailing List before the end of this year.
e-mail contact address: ramoto1992@gmail.com
Postal address: Juris Ramba,
Kurland Rally Entry Secretary,
Lapu str. 10,
Ogre LV-5001,
LATVIA.
Tel./Fax: (+371) 65071334
INTERNATIONAL KURLAND RALLY 2015.
The 2015 Rally will follow the traditional Kurland Rally format. The Rally will again be a Road Reliability Trial or in other words a 3–day Touring event, visiting several most beautiful ancient palaces and manor houses of Latvia, mostly those situated in the historic Kurland region. The main destination this time will be the Liepaja open sea port with it's unique attractions. The participants will be exploring further the Baltic coastline as well as there will be motorcycle rides inland along some very uninhabited roads to see previously unseen landscape and castles. The riding distance is expected to be less than on previous Kurland rallies, but some older roads will be covered with genuine gravel, so the progress on them will be unhurried, but worth the scenery. Good music, fine food, beautiful landscape, friendly people, interesting company -- are all the ingredients of a Rally with a Difference — the Kurland Rally in Latvia!
The dates will be 16th – 19th July, 2015. For more details please see the News page on this site.
Rally Regulations, Entry and Accommodation Forms can be requested by e-mail ramoto1992@gmail.com or by writing to Juris Ramba, Lapu Str. 10, OGRE, LV-5001, LATVIA,
Tel/Fax (+371) 65071334
For those of you who would like to find out more about Kurland (Courland) and the Round Kurland Rally I can recommend to watch the Official Video of the 2013 FIVA World Motorcycle Rally in Latvia. Here is the link:https://www.youtube.com/watch?v=Dp-g3GASljA
Juris Ramba
Kurland Rally
Entry Secretary
Juris Ramba
The 2013 Rally will have a different name. It will be the FIVA World Motorcycle Rally in Latvia, organized within the Kurland Rally framework and traditions. The 2013 Rally will again be a Road Reliability Trial or in other words a 3–day Touring event, visiting 6 most beautiful ancient, palaces and manor houses of Latvia, mostly those situated in the historic Kurland region. The dates will be 18th – 21st July, 2013.
For more details please see the News and Important Information pages on this site.
The
2011 ROUND KURLAND RALLY.
The Round Kurland Rally is designed as a traditional event with an accent on active riding of historic motorcycles in the most picturesque part of Latvia – Kurland . For 2011 it will consist of a Reliability Road Trial and will visit a good dozen of castles, palaces and manor houses of the historical area of Kurland .
For almost 400 years the present territory of Latvia was part of the feudal states of the Livonian order of crusaders as well as archbishops of Riga and Courland . During the period from 1185 to 1562 German feudal lords erected more than 100 castles in the territory of the present day Latvia and fewer – in the territory of the present day Estonia . Exact number of these castles is not known, as many of them perished in the first years after construction, some were wooden, and have not survived till nowadays. It is assumed, that in the territory of Latvia 128 castles have been built, but this number may change in the future, based on the findings of historical research in this area.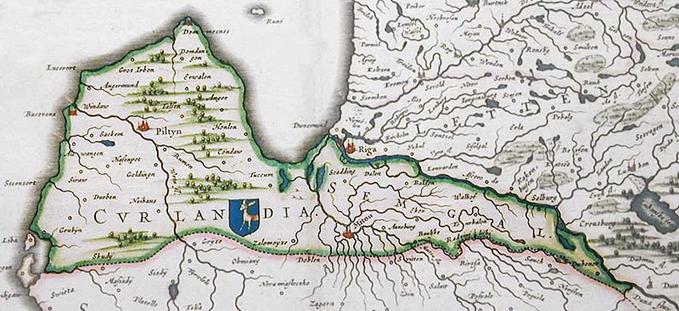 Duchy of Courland and Semigallia

 

The event will be held over the weekend of 14th – 17th July, 2011. The Rally participants will assemble on Thursday 14th July after 16.00 hours at the ski resort hotel Milzkalns which is in the Tukums region, close to the Slokenbek estate and is easy to find. Tukums is 60 kilometres from Riga, 120 kilometres from Ventspils and 170 kilometres from Liepaja . This rally is planned as a travelling event so accommodation every night will be provided in a different location. Special vans will be provided to carry participants' extra bags to restaurants and hotels.

 

The Rally is dedicated to the memory of Alexander Leutner – a Kurland born engineer of German descent. Leutner can be regarded as a true motorcycling and motoring pioneer and one of the first producers of motor vehicles in the territory of Latvia , once part of tsarist Russia .

 

In the interests of all concerned the rally will be limited to approximately 50 historic motorcycles.

The total riding distance over the 3 rally days is around 600 km. Historic motorcycle enthusiasts from all over the world are invited to attend this rally. Since Latvia joined the EEC in May, 2004 it has become so much easier to travel to Latvia ! The eligibility date of the machines is 1978.

 

Rally Entry Forms and Regulations can be requested from the Rally organizer by post or by e-mail and Entry and Accommodation Fees for the Rally can be paid by VISA/Euro card MASTERCARD credit cards. The Entry Fees include all meals of the rally, guarded vehicle parking, rally souvenirs, music and more. There are several different standards of accommodation available such as B&B, hotel, and accommodation in tents, all priced accordingly as per separate Accommodation Forms. The Entry Deadline is 15th April, 2011. The 2011 Reliability Road Trial will start from hotel Milzkalns, near Tukums at 8.00 on Friday 15th July. The event will finish on Sunday, 17th July at 17.30 at the Bauska castle near Bauska. The distance from Tukums to Bauska is approaximately 140 kilometres. The distance from Bauska to Riga is 80 kilometres. Hence the participants will be advised to leave their trailers and support vehicles at hotel Skanste in Riga and to travel 60 kilometres to Tukums with their motorcycles. Travelling marshals will be available for travelling support.

 

 

The website of the hotel is http://www.hotelskanste.lv/ and their e-mail address is: HOTEL@HOTELSKANSTE.LV Fax: (+371) 67519921, Phone: (+371) 67519922. Please remember to mention the magic phrase "KURALAND RALLY" and you will be immediately entitled for a considerable discount!

The number of rooms at hotels en route is limited. Hence it is recommended to send in Rally Entry Forms and to book accommodation early to avoid disappointment.

 

For Entry and Accommodation Forms and more details on the rally please write or call:

Juris Ramba

Rally Organizer Tel/Fax (+371) 6 50 71334

Lapu # 10 Mobile (+371) 29255601

OGRE LV 5001 e-mail: RAMOTO@APOLLO.LV

LATVIA .

 

The Round Kurland Rally is run under the auspices of the Historic Motorcycle Section of the Latvian Antique Auto Club (AAK SMS) www.aak.lv. The AAK SMS is affiliated to:


VMCC Ltd UK (The Vintage Motor Cycle Club of UK - www.vmcc.net - e-mail: hq@vmcc.net;
VFV Germany (Veteranen-Farzeug-Verband e.V., Germany - e-mail: vfv.trapp@t-online.de

For further details please email, telephone or write to the Rally Organiser, Juris Ramba, at the following address:



Juris Ramba
Rally Organizer
Lapu # 10
OGRE LV -5001
LATVIA.


Tel/Fax (+371) 65071334
Mobile +371 29255601

e-mail: ramoto@apollo.lv
www.kurlandround.lv
www.ramoto.lv
Last Updated on Friday, 08 December 2017 21:08